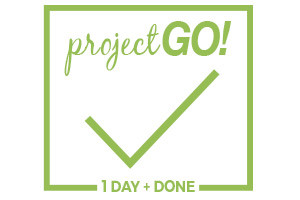 You know that one thing that keeps nagging at your to-do list? Ready to complete it?  Project GO! was designed for precisely this reason.
This full-day program allows for instant accomplishment with enjoyable lasting success. Join us for a day and get ready to tackle 1, 2, 3 (or more) items on your to-do list. Get past a stuck spot, create space to focus, generate ideas, be productive and simply get it done.
This group intensive provides a one-on-one coaching opportunity in a structured yet supportive work friendly environment. You'll move your business and to-do projects forward in a big way in just 1 day. Consider this program an accomplishment accelerator… holding you accountable and generating productivity!
Imagine… checking off those things that will make a major impact on your practice.  The difference a day can make is remarkable.  Are you ready?
To learn more about this invaluable opportunity and to express interest in registration, please contact us.
Event dates and registration details available upon request.