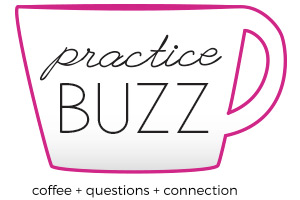 A warm sip of coffee, a welcoming crew of like-minded and motivated professionals and some buzz-worthy Q&A… sounds like a great morning to me!
Have you been wanting to grow your practice but have wasted time and money guessing on what to do next? Are you frustrated and struggling to get client's in your office?
Here's a simple solution.  It's our monthly PracticeBuzz event where you'll find an effective dose of coffee + questions + connection to build a profitable practice you love.
Although many of us know that successful businesses are built on strong relationships and a supportive community, we rarely create the time and energy to do so… leaving us feeling professionally disconnected without any motivation or accountability.
Well that's about to change.  Join us. You'll see.
3rd Wednesday of the month | 9:30 to 11:00 am |  California Cafe — 50 University Ave #260, Los Gatos, CA 95030
Advanced registration is required. $29
Click HERE to view the events page for further details.