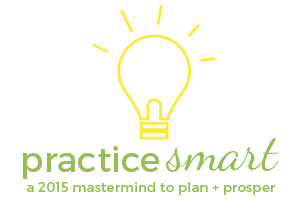 Did you know that business owners who plan and prepare grow 3x faster than their peers?! Did I catch your attention?!  Let me introduce you to PracticeSmart 2015 — A premier vision shifting, practice planning, goal setting and profit building business Mastermind experience.
This strategy-focused full day event was specifically designed for the modern and motivated professional in private practice looking to have 2015 be their best year ever! Limited to only 10 leading professionals, this high-level mastermind is guaranteed to be an intimate and personalized experience certain to meet your practice planning and profit building needs.
Expect a lively and engaging atmosphere, loaded with user-friendly business tips and practical step-by-step solutions to get you clear, get you motivated and get your started on the road to sure-fire success!
After all, isn't that what we all want?!
Planning season is here.  Stop spinning your wheels.  Quit guessing your way through building your practice.  It's time to change lives + make money!
The premier PracticeSmart event is not for everyone. It's reserved for those who are specifically interested in "practicing smart" and who area ready to commit to the time, energy and effort required to make a profitable practice.
If you are interested in applying for PracticeSmart 2015, please complete the following application. If you have any additional questions we're happy to help. Please feel free to contact us.
Event dates available soon.