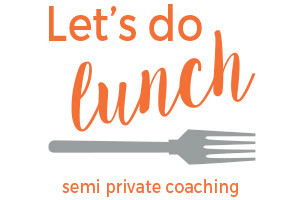 I don't know about you, but I love a good lunch date! Especially when mixed with a generous side-dish of practice building and brainstorming.
Get ready as this is not a typical networking or business lunch. Expect an intimate gathering of no more than 4 professionals who, just like you, are choosing to take their practice to the next level.
By attending, you'll initiate necessary action steps to improving the success of your business including connecting with like-minded individuals, creating space in your busy week to work on your practice, taking time to brainstorm and clarify the direction of your goals and learning about time and money saving resources. In my opinion, these are all "non-negotiables" in creating a profitable practice.
With valuable tips delivered throughout the lunch, along with the opportunity for some direct coaching for your practice, this could be the inspiration and accountability needed to launch your motivation to new heights.
Please note, this is not just a networking gig. This semi-private coaching experience was created specifically for professionals who are committed and ready to focus on the next steps to creating 6-figure success.
Are you ready to join me? Let's do it!
To express interest, please contact us and we will be in touch soon.
Event dates and registration details available upon request